Camera Critters #1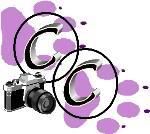 I'm becoming so fond of joining memes lately and thought this one would keep me in constant contact with my camera and my immediate surroundings so here's my welcome entry for Camera Critters this week.
A green grasshopper in my unpainted bedroom wall!
I didn't even know how did it get in there and I admit it startled me when it first hopped up my shoulder. But I know creatures like this are harmless so I just let it enjoy the space it got for hopping.